Un grande concerto per rifiuti zero e inquinamento zero, organizzato dalle 'Mamme No-Inceneritore', Associazione il Muretto e altri promotori, giovedi 11 aprile dalle 18,30 per contrastare il folle disegno di costruire un inutile e pericoloso inceneritore a 6 chilometri dal Duomo di Firenze, in località Case Passerini.
Già il 18 giugno la Conferenza dei Servizi potrebbe dare lo sciagurato via libera alle ruspe. Per questo è necessaria una grande mobilitazione di cittadini contro questo insensato progetto che andrà a impattare in modo negativo sulla salute delle popolazioni presenti e future.
Al concerto parteciperanno famosi artisti schierati contro gli inceneritori: da BOBO RONDELLI, a BANDABARDO', CASA DEL VENTO, GATTI MEZZI, MALASUERTE FI SUD, ZIO PHELLAS, RICCARDO MORI, KING OF THE OPERA, QUARTO PODERE, GAUDATS JUNK BAND, MARINA EVANS, ETRUSKI FROM LAKOTA, con la partecipazione di DAVID RIONDINO e dei bambini del quartiere che apriranno l'evento alle 18,30.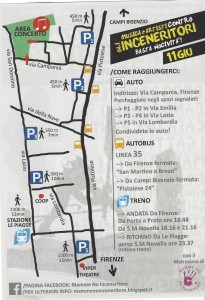 All'interno del concerto, vi saranno vari interventi relativi all'inceneritore, al nuovo aeroporto e per l'acqua bene comune.
Vi saranno diversi banchini informativi di associazioni/comitati, tra cui:
Equazione, Emmaus, Assemblea per la Piana contro le Nocività, Mondeggi Bene Comune, No Aeroporto, Mamme No Inceneritore, Riprendiamoci Il Pianeta, Rifiuti Zero Firenze, ACAD, No job's Act, WWF, Medicina Democratica.
The following two tabs change content below.

Gian Luca Garetti
Gian Luca Garetti, è nato a Firenze, medico di medicina generale e psicoterapeuta, vive a Strada in Chianti. Si è occupato di salute mentale a livello istituzionale, ora promuove corsi di educazione interiore ispirati alla meditazione. Si occupa attivamente di ambiente, è membro di Medicina Democratica e di ISDE (International Society of Doctors for the Environment).