Crocette, competizione, classifiche e omologazione.
Ormai dal 2007 gli studenti delle scuole primarie e secondarie di tutta Italia vengono sottoposti ai test Invalsi, un sistema di valutazione a crocette, volto a verificare le competenze esclusivamente logiche dei ragazzi. I risultati di tali prove contribuiscono all'assegnazione di un punteggio alle scuole, alimentando il divario che già esiste tra scuole considerate di "serie A" e di "serie B".
Infatti quelle che ottengono punteggi più alti godono di un maggior numero di iscrizioni e, di conseguenza, di maggiori finanziamenti. Al contrario, le scuola di "serie B" non hanno l'accesso ad alcuna possibilità di miglioramento. Tutto ciò è impensabile per tutti coloro che come noi credono in una scuola pubblica senza distinzioni di classe.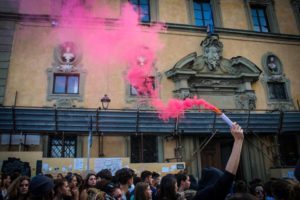 Si tratta di test che, non lasciando spazio allo spirito critico degli individui, tendono a valutare la nozione più del ragionamento, il dato più del processo, e misurano solo l'acquisizione di una serie di informazioni settoriali stimolando una frammentazione della didattica e quindi la sua banalizzazione.
Ecco l'ennesima dimostrazione di come la scuola pubblica sia sempre più coinvolta in un processo di privatizzazione e aziendalizzazione. Le prove Invalsi sono quindi espressione di un sistema contro cui noi studenti del collettivo K1, ci battiamo ogni giorno attraverso tutte le lotte che portiamo avanti.

Ci vogliono obbedienti e governabili, ma c'è chi comunque alza la testa.
Martedì 9 maggio, al liceo Capponi in piazza Frescobaldi, i banchi a barricare le porte e a impedire lo svolgimento dei test incarnano tutta la nostra ostilità. Il nostro boicottaggio si é poi tradotto in una mattinata di confronto e socialità in piazza Santo Spirito.
JOIN THE REBEL SIDE
*Collettivo K1
The following two tabs change content below.