In una mattinata nebbiosa – nella foto il Palazzo di giustizia di Firenze – si è aperto il 13 novembre a Firenze il processo di appello per la strage di Viareggio.
Sono morte 32 persone, sono passati nove anni e i familiari delle vittime sono ancora a rincorrere una sacrosanta giustizia, ma incombe in modo paradossale la prescrizione del reato di incendio colposo e non solo.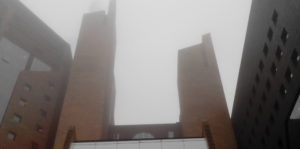 Nell'aula del tribunale ci sono le magliette bianche dei familiari delle vittime con la scritta Noi non dimentichiamo, e si respira tanto dolore, tanta sofferenza e la stanchezza di una lunga e impari lotta. Ci sono pure tante toghe nere. Il nutrito collegio difensivo degli illustri imputati, tutti assenti o contumaci come Moretti ed Elia, punta all'annullamento del processo.
Arrampicandosi sugli specchi si cerca di dimostrare che i giudici del processo di primo grado non erano attendibili perché di Viareggio, come le vittime. Oppure ci si attacca alla mancata traduzione dall'italiano al tedesco degli atti del processo dato che una parte degli imputati, sono tedeschi.
In questo clima kafkiano è stato calendarizzato il procedimento, che prevede una udienza a fine gennaio 2019 e poi a partire dal 4 febbraio, 3 sedute settimanali.
*Gian Luca Garetti
The following two tabs change content below.

Gian Luca Garetti
Gian Luca Garetti, è nato a Firenze, medico di medicina generale e psicoterapeuta, vive a Strada in Chianti. Si è occupato di salute mentale a livello istituzionale, ora promuove corsi di educazione interiore ispirati alla meditazione. Si occupa attivamente di ambiente, è membro di Medicina Democratica e di ISDE (International Society of Doctors for the Environment).