Una sostanza che provoca il cancro in libera vendita sui nostri scaffali.
Se andate in qualsiasi consorzio agricolo o in un negozio dove si vendono piante, noterete che sugli scaffali ci sono tutt'ora flaconi di Roundup, uno dei nomi commerciali del glifosato, in libera vendita, per diserbare il giardino.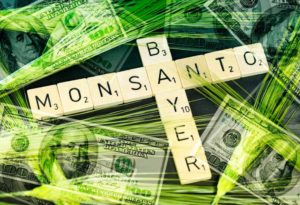 E' notizia di questi giorni che la multinazionale Bayer, sta pagando miliardi di dollari per risarcire le persone che si sono ammalate di cancro per essere stati a contatto professionalmente col glifosato ed addirittura si premunisce per risarcire i futuri malati di cancro che la quereleranno! Le azioni legali in corso negli USA sarebbero circa 150.000.
In Europa 'scienziati' di serie CN, cioè in conflitto di interessi e negazionisti, forniscono argomenti utili alle aziende per sdoganare l'erbicida cancerogeno, che come detto, è sempre in vendita, seppur con delle piccole limitazioni.
Nel 2022 scadrà il rinnovo dell'autorizzazione a livello di UE, vedremo se prevarrà il business as usual o la salute delle persone e dell'ecosisistema.
'Il capitalismo riduce tutto allo stato di merda' diceva Felix Guattarì, (F.Guattarì, Rivoluzione molecolare, Pgreco) che così continuava 'e quando parlo di merda è appena appena una metafora'.
Per ripercorrere la storia del glifosato e per approfondimenti scientifici rimandiamo ai numerosi articoli scritti su questa rivista, in particolare all'e-book di Gian Luca Garetti Agricoltura senza padroni
*Gian Luca Garetti
The following two tabs change content below.

Gian Luca Garetti
Gian Luca Garetti, è nato a Firenze, medico di medicina generale e psicoterapeuta, vive a Strada in Chianti. Si è occupato di salute mentale a livello istituzionale, ora promuove corsi di educazione interiore ispirati alla meditazione. Si occupa attivamente di ambiente, è membro di Medicina Democratica e di ISDE (International Society of Doctors for the Environment).