30 anni in prima fila
30 anni e mai un passo indietro
30 anni e tant* compagn*, e storie, e impegno, e brindisi!
Tanti auguri CPA FI sud,
ce n'est qu'un début!!!
Sabato 5 Ottobre festeggiamo i 30 anni del Cpa Firenze Sud.
Dalla mattina laboratori aperti e dimostrazioni sportive.
Alle ore 10.00 partite di minibasket maschile e femminile.
Alle ore 13.00 pranzo popolare.
Alle ore 15.00 allenamento di boxe
Alle ore 16.00 tango
Alle ore 16.00 apertura camera oscura
Alle ore 16.00 apertura ciclofficina
Alle ore 18.00 asta delle biciclette
Dalle ore 19.30 musica dal vivo con
Guestska, Balls of fire, Malasuerte fi*sud, Ivanoska e di Maggio Connection.
Durante la giornata verrà allestita una mostra fotografica.
Durante tutta la giornata sarà aperto un punto bar e dalle ore 20.30 alle 22.30 alcuni punto ristoro.
LUNGA VITA AL CPA FI-SUD
https://www.facebook.com/events/479135282667294/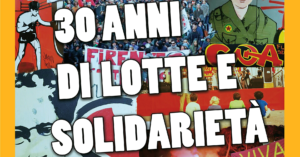 The following two tabs change content below.

Redazione
Il gruppo di redazione della rivista edita da perUnaltracittà