La marea si alza contro il meeting della finanza!
We are the tide, you are only (G)20 | mobilitazione nazionale
sabato 10 luglio, H 14.30, Venezia (luogo in fase di definizione )
Dal 7 all'11 luglio i ministri della finanza dei 20 paesi più industrializzati si incontreranno all'Arsenale di Venezia per il meeting del G20 dedicato alla finanza.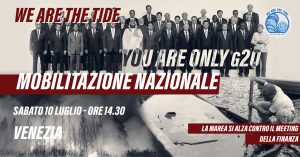 Di fronte alle numerose crisi sistemiche che si sommano, ultima quella della pandemia, un sintomo della più vasta crisi climatica, il G20, che rappresenta gli stati con le economie più importanti a livello planetario, vorrebbe ricondurre il mondo alla regola neoliberale che ha eliminato i diritti dal suo vocabolario, costruendo un divario sempre maggiore tra ricch* e pover*.
Convint* che un cambio radicale di rotta passi attraverso l'autoorganizzazione e la presa di parola di chi è abituato a pagare i costi di ogni crisi, non possiamo esimerci dal far sentire la nostra presenza a Venezia in quei giorni.
La manifestazione accoglierà i temi, le performance e le pratiche di tutte le realtà che hanno aderito alla piattaforma "We are the tide. You are only G(20)".
In una città militarizzata, in cui la zona rossa viene applicata indiscriminatamente non solo in prossimità dei luoghi fisici in cui si tiene il summit, ma all'intero centro storico, dare voce e forma a un'alternativa dal basso, alle rivendicazioni di chi da anni subisce le scelte di una manciata di ministri e governatori delle banche è fondamentale, dare una risposta che sia all'altezza della violenza delle politiche finanziarie globali è urgente.
La giornata di mobilitazione sarà preceduta da un appuntamento di discussione il 9 luglio i cui dettagli verranno comunicati il prima possibile.
Ci vediamo in tant* a Venezia, opponiamo alla loro sfilata la nostra marea!
We are the tide, you are only (G)20
The following two tabs change content below.

Redazione
Il gruppo di redazione della rivista edita da perUnaltracittà